Sergio Agüero is one of the soccer world's most hunted player.
Now the 22-year-old  write on his website that he decided to leave Atletico Madrid.
Sergio Agüero has been excelling in Atlético Madrid and is now seen as one of the world's best strikers. It has piqued the interest of clubs like Real Madrid, Barcelona, ​​Inter and Manchester City.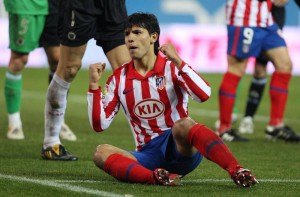 Acording to Marca, Aguero had a meeting with the club on Monday where he asked them to consider all bids that come in to him. Late on Monday evening,  he also confirmed himself that he demanded to leave the club.
– I said long ago that when I want to go, I will say it publicly. The moment has come. So I kept my word and here I am. It is difficult to leave Atletico. It hurts me, Agüero writes on his website at ESPN.
Striker wrote as late as January on a new contract with Atletico. The club then agreed on set price tag of Agueros release.
– We also agreed that he cannot go to Real Madrid, even if they face the clause, "said club president Miguel Angel Gil Marin to Onda Cero.
Atletico have already confirmed that Real Madrid made an offer for the superstar in April, but it was turned down. Now Jose Mourinho is expected to try again but may have some heavy competition. While Barcelona and Manchester City is said still to be in the hunt for what may be silly-summer's hottest player.
So where do you think Agüero is going to end up?