Maybe it's just me who can not keep up with our time. The focus of this week in Europe has indeed been the match between Barcelona and Real Madrid. The media however seems to be focusing on the wrong things.
In my soccer world, I would think that when two really great teams, two arch rivals, 22 great players, two legendary and successful coaches – when they meet, I get a brilliant, tough, vibrant close combat, adrenaline, and also superb football and a feast for soccer lovers.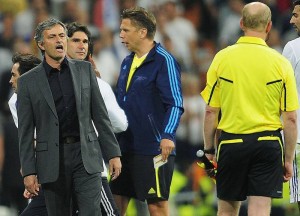 What do you feel like we've got the two most recent El Clasicos?
If you ask me, I've mostly seen, protests against the ref, drama queens, whining, and one long orgy trying to cheat yourself into an advantage. And both Real Madrid and Barcelona are equally responsible for this disgusting performance.
I must have missed that this was the priority for the worlds greatest soccer players when they enter the pitch, how to cheat their way into an advantage against their opponents.
Honestly, what the hell is it for development we are witnessing? Why should the world's best soccer players be acting like this?
When they get a hand on their chest and fall down with their hands to their face are they not ashamed afterwards when everybody can see that they are cheaters on the television?
No, this is not a part of soccer, and where is the respect for your fellow athlete?
Play hard and tough, we all know that it is included. Is this the RESPECT that UEFA demands in their competitive matches?
You can see Pepe's tackle on Dani Alves in the video above, and I honestly don't know if he touched him or not. But that is in my opinion not relevant, the reaction of Dani Alves after the tackle is disgusting and of course that Dani Alves theater influenced the judge (and the fourth official, who I think took the decision). Dani Alves acted like his leg was broken.
Why do you behave that way? Are you a big soccer player, then?
This behavior is killing our beautiful game and making it the tragic game instead. Barcelona and Real Madrid are more alike then you think and they deserve each other.
All I can say is that I hope Manchester United win Champions League, and that Mourinho stops blaming the referee every time he looses a game.