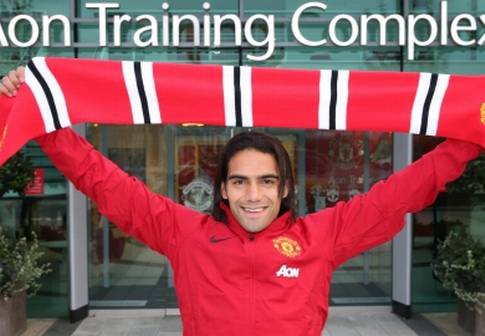 Manchester United have put out an incredible sum of money this transfer window to rebuild the squad after last year's debacle. Offensively, the club has received superstars in Angel Di María and Radamel Falcao. Di Maria is a dream player for any team. Falcao is more difficult to place in the starting eleven, but it may indicate that Robin van Persie knee injury is serious and that the club expects the Dutchman will be away for a significant period of time. In that case, the Falcao deal is reasonable and logical. Ander Herrera is the type of midfielder that the team needs even if van Gaal could have got a better play in Cesc Fabregas (who was recruited for a similar sum). Luke Shaw can become the club's left back for a decade ahead, and if that is the case, it was worth the high price tag.
I'm more surprised that they've focused on Marcos Rojo. The argentine is not a natural left back or a center back in a back four. This suggests that Louis van Gaal plans to continue with is three central defenders. Daley Blind well definitely strengthen the defensive midfield but could fill in as a left wingback and also left central defender.
The Glazers have undoubtedly contributed the funds to invest their way out of the crisis, but the feeling is that Manchester United are still front heavy. Offensively there are a number of quality players, but how Van Gaal get Wayne Rooney, Robin van Persie, Angel Di María, Juan Mata and Falcao on the pitch at the same time and simultaneously take advantage of their strengths? Someone will have to draw the short straw.
United is still screaming for that defense leader, Phil Jones may be able to get there in time, but he still has a ways to go. Chris Smalling have a long way to go as well and Jonny Evans never seem to get there.
Manchester United have a spent a lot of money this transfer window and received many class players, but my feeling is that the team needs even more signings – and the right signings.
It's clear that there is a revolution going on in Manchester United and the promise to keep the tradition of the methodical work with focus on the academy that Sir Alex Ferguson championed is in clear danger to be removed.
In: Ángel di María (Real Madrid, £59.7m), Luke Shaw (Southampton, £30m rising to £31m), Ander Herrera (Athletic Bilbao, £28.8m), Marcos Rojo (Sporting Lisbon, £16m), Daley Blind (Ajax £13.8m), Vanja Milinkovic (FK Vojvodina, Undisclosed), Radamel Falcao (Monaco, Loan).
Out: Shinji Kagawa (Borussia Dortmund, Undisclosed), Alexander Büttner (Dynamo Moscow, £4.4m rising to £5.6m), Patrice Evra (Juventus, £1.2m rising to £1.5m), Bebe (Benfica, £2.25m), Jack Barmby (Leicester City), Feredrico Macheda (Cardiff City), Nemanja Vidic (Inter Milan), Louis Rowley (Leicester City), Rio Ferdinand (Queens Park Rangers), Charni Ekangamene (Zulte Waregem), Vanja Milinkovic (FK Vojvodina, Loan), Angelo Henriquez (Dynamo Zagreb, Loan), Nani (Sporting Lisbon, Loan), Javier Hernandez (Real Madrid, Loan), Tom Lawrence (Leicester, Undisclosed), Nick Powell (Leicester, Loan), Michael Keane (Burnley, Loan).
Released: Sam Byrne, Ryan Giggs, Jack Rudge.