Manchester United is in a winning position in the Champions League after the 1-0 against win against Chelsea at Stamford Bridge.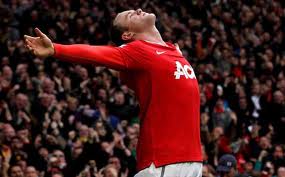 The explanations for the results are of course many, ranging from a loss of an a obvious penalty, Torres continued bad shape, Ferdinand's surprisingly strong return, the London team's hesitant and shaky passing game with lack of speed, Edwin van der Sar's big games and luck with the post and so on.
Though the big thing was, of course, Wayne Rooney's performance. Oh my god. How is this man designed? What is he made of? What does he eat? I want to know, for he can not be a mortal man.
Add Rooney performance this weekend where he got England to take the spin and forgive for all the latest negative press.
And only by looking back a year in Wayne's World you will see how really questionable his career was. Bad performances, contract dispute, World Cup embarrassment, public infidelity and dumped advertising contracts, newly toddler's dad, hated by all the fans in England and much more. Rooney has gone trough a lot of what Fernando Torres has gone trough when it comes to the problems in the pitch, the only difference is that Rooneys problems have been a lot more problematic. So while Torres is still looking like an old shadow of him Rooney has digged himself up from his hole and showed the world that this boy is a bit special.
It is clear that his form has been on the rise,
regardless, it was a dazzling first half  Rooney did. He drove like a fury over the pitch and crowned the day by submitting the1-0 goal.  Even in the second half, he was strong and led his United to victory
The game is far from over, when we look forward to the return at Old Trafford.