As the regular readers of EFS know, I am a huge Arsenal fan. It is the only team I have really loved and supported. Arsene Wenger has also been a hero for me, both when it comes to his philosophy as a Manager and for everything he has done for Arsenal. I have several times before stated that Arsenal are now facing a important decision, to keep going with the current squad or to make a changeover. I have been following the silly season news and the it feels like that everybody wants to buy Arsenal players. Fabregas, Nasri, Arashvin are some of the players that have been linked to new clubs. My opinion my surprises many gunner fans but I say sell them all.
It's time to start over; sell Fabregas. He is a good player no doubt but he is not even close as important as Vieira was for Arsenal. Get rid of the scrubs, there are to many overrated players in today's Arsenal squad.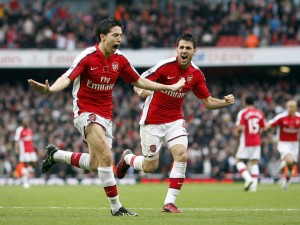 Wenger went before the summer, and said that he for the first time he would be active on the transfer market. We have not really seen anything yet. Arsenal has according to reports, in all cases a transfer budget equivalent to £60 m, which definitely can be increased if players like Bendtner, Arshavin, Nasri or Fabregas are sold. I have no doubt that Arsenal have the money, I doubt that Arsene will make use of the money.
The priority should lie in the back and upfront. The little tricky balance to find a real goal poacher, a player type that Arsenal have lacked for years. The defense need to be sorted out as well. With sale of Clichy a new left back is needed as well.
This is a critical time for Arsenal. Arsene Wengers great project has not yet borne fruit in the form of titles and frustration grows within its own ranks, both among supporters and among players. The players, one after the other say they consider leaving the club. This is becoming a reality.
It is of the utmost importance that Wenger this summer break this vicious cycle and turn the club's momentum up – otherwise we can now see the beginning of the end of an era.
Current Arsenal Squad
Goalies: Manuel Almunia, Lukasz Fabianski, Wojciech Szczesny, James Shea.
Defenders:  Bacary Sagna, Thomas Vermaelen, Laurent Koscielny, Sebastien Squillaci, Johan Djourou, Kieran Gibbs, Gavin Hoyte, Ignasi Miquel, Kyle Bartley.
Midfielders: Abou Diaby, Cesc Fabregas, Tomas Rosicky, Samir Nasri, Denílson, Aaron Ramsey, Alex Song, Sanchez Watt, Jack Wilshere, Andrey Arshavin, Emmanuel Eboue, Craig Eastmond, Jay Emmanuel-Thomas, Henri Lansbury.
Strikers: Robin van Persie, Theo Walcott, Marouane Chamakh, Nicklas Bendtner, Luke Freeman, Gilles Sunu, Benik Afobe, Carlos Vela.
Players in: Carl Jenkinson (Charlton, £ 1 m).
Players: Tom Cruise (released), Mark Randall (released), Gael Clichy (Man City, £ 7 m)
Compare it to what Arsenal used to be….