Gunners look to strengthen their attack next season with the Ivorian striker Gervinho .- He is in advanced discussions with Arsenal, reveals  Lille's president.
Lille won both the league cup last season, and one of the leading figures were Ivorian striker Gervinho with his 18 goals in total.
Success has brought interest from clubs and nowLille's CEO Frederic Paquet confirms that a move to Arsenal is close. -He wants to leave the club and is in advanced discussions with Arsenal. We will meet them soon and see what they offer. He is clearly a valuable player for us, "said Paquet to French radio station RMC.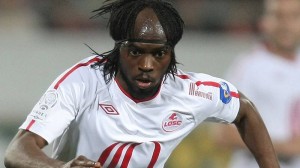 Tottenham and Paris Saint-Germain has placed a bid. But Hotspur bid was too low, and PSG's bid was immediately unwelcome. "We have no intention of selling to our competitors. He has also expressed a desire to move to England. This limits the course of options.
The question is if this is the kind of player Arsenal needs? Wenger have failed to find a replacement for Henry for several years. Many have tried, Adebayor, Bendtner, Chamkah, and Van Persie are all good players but anywhere close to the level Henry was in Arsenal. My immediate feeling about Gervinho is that he is another Theo, a good player but nevertheless not a world class player. Arsenal needs a striker that they can build the team around. Like Messi in Barca or Zlatan in Milan or Rooney in United. Until that happens Arsenal will keep loosing.