You've probably heard about Brian Reader book about Liverpool's American ex-owner's time in the club.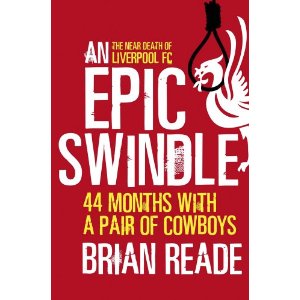 Now the Daily Mirror began publishing excerpts from "An Epic Swindle – 44 Months With a Pair of Cowboys", and the story is good enough for a wider audience.
When George Gillett and Tom Hicks had just taken over LFC, a club they only with some effort could distinguish from KFC.
Reade claims that Gillett had little to no idea how the European transfer system works, a fact that has since become abundantly clear:
"Gillett's favourite phrase, when Benitez tried to pin him down on his transfer budget was:' I'll give you £50 million plus whatever we get in the draft', which was so nonsensical it almost had Benitez butting walls."
Gillett was close to swallow his tongue at one point. He stood and read a newspaper, fell for an article that said that "Steven Gerrard will marry Alex, his partner of a long time". According to the book Gillett could not believe it. He was so upset that he felt compelled to call Hicks.
– Tom. It is one thing you must know. Our team captain is gay.
In England, a partner can well be a woman's husband or male-female. In the U.S., it is reserved for other kinds of relationships.
Now, a few years later, Liverpool's captain is still married to Alex Curran.