Hated by many loved by few but respected by those who value loyalty. To see Gary Neville playing football has never been a sight to behold.
Neville cares little about this, he knows that he has always been a bit less talented than the rest of United's famous' Class of 1992 ". It would have been easy to give up at age 16, to focus on school or cricket that interested him during the early years, but not Gary Neville – he looked at himself and realized that he, in order to reach the top, had to sacrifice a lot:
"If you are not the most talented player in the World, You have to sprint to keep up. You have to sacrifice. When I left school at 16, I made the conscious decision that I would cut myself off from all my mates.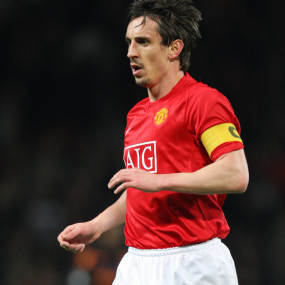 About 20 years later, he has finished his Soccer career as one of the most successful soccer players ever to play the game:"Ha, what is a drink in a bar really, when the alternative is to win the Premier League eight times, rowing home Champions League, going on five championships with the national team and achieve legendary status in one of the world's top clubs. "
A lot has been said and written about Neville, we know that he strongly disapproves of Liverpool, we know he likes to go to bed before the clock strikes ten, we know that he is a product of United youth academy who produced players like Beckham, Giggs, Scholes.
We know he is a winner.
The original clip on YouTube – where Gary Neville runs over the whole pitch to celebrate United's win against Liverpool at Old Trafford in front of away teams fans has around 380 000 views and over 1150 comments. Let's say most comments are not very nice.
Peter Schmeichel the man, myth, legend had been a teammate of Gary for eight years. 1000's of times Schmeichel had rolled out the ball to his right-back, they had won everything together.
Schmeichel had left United in 1999 been on a trip to Sporting Lisbon, Aston Villa have decided to return to Manchester, but this time he choose United's local rival Manchester City .
In November 2002, it was time for the derby at Maine Road. United's players were waiting in the tunnel for the Man City team up in the front was their captain for the day, Gary Neville.
After a while the City's eleven led by the Schmeichel shows up,  he looks relaxed and say hello to a couple of United players before he arrived to Neville. Peter knocks on Gary's shoulder, Neville turns around and gives Schmeichel the stare and ignores the hand.
This is a good example of how focused and obsessed Gary Neville was before / during the match, but this is certainly not the only example available.  But it is also what makes him so good.
What he will miss the most?
"The moment of winning the trophy. That evening,-when you've actually done it. It's the thrill of the final whistle-blowing and knowing you've won a trophy what I'll miss the most. "