Everything else was secondary, the fact that they had just won the semi final of the biggest soccer tournament of the world against their arch rivals.
Eric Abidal returned to the soccer pitch after his illness, it was almost two months since the last time.
He was lifted up by his teammates after the final whistle.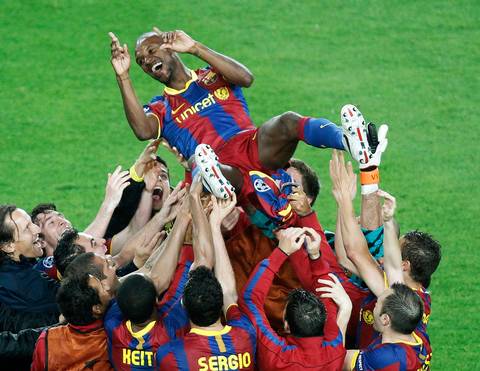 The result was 1-1 and Barcelona was ready for the finals of the Champions League after a total of 3-1 victory. Coach  Pep Guardiola decided to make a popular change in Nou Camp.
He subed Carles Puyol out and put in Eric Abidal.
The Frenchman was greeted by standing ovations when he ran onto the field.
The audience stood and applauded when the left back made ​​his comeback.
After the final whistle teammates chose to celebrate Abidal bit extra. They formed a ring and hoisted the 31-year-old.
It was in mid-March as Barcelona announced that Eric Abidal suffered from a tumor and that he would undergo an extensive surgery.
A few days later, he underwent a successful surgery. And Today he is back on the soccer field again.
Welcome back Eric Abidal!