A couple weeks ago it was confirmed that Barcelona Éric Abidal had suffered from liver cancer. Obviously terrible news for Abidal and his family. As Eric Abidal is entering this though time the French national team is starting their own journey with a new head coach Laurent Blanc.
"I know that the disease is chronic. I know there is a risk that I will get it again. But then … you have no idea how much I've learned by going through this. My brain has never been stronger.I wish I had always been so great to enjoy the little things in life. Just that you being around friends today, what fun it is! Not to do too much planning without living in the moment. I really do know now. And then it's hell to get something like this to get that insight. "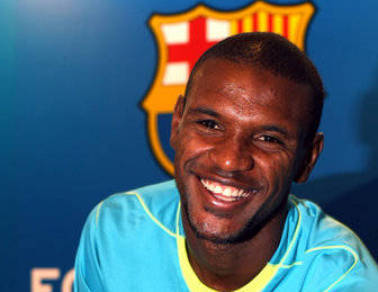 The thing is that Abidal already seems to be the type of person who offers himself, setting up happily in interviews and always seems to be in good spirits. It feels as if no referee has ever awarded an incorrect yellow card for him and many others got away with three.
Xavi said about Abidal,  "This is the toughest time I've had at the club, but Abidal will fight his way through it mentally, he is one of the strongest people I know.
These are tough times for both Abidal and his family. He is a role model for everybody and is always positive. He said 'that's life, and that we must continue as we do and win against Getafe on Saturday'. We will do everything we can to win the match and dedicate it to Abi and his family. "
When France took the World Cup gold in 1998, it is well more than likely that a young Eric Abidal was one of those who celebrated in the streets. The French victory was special – not just because it was their first World Cup gold medal – but because the multi-ethnic team had been attacked during the tournament of the Front National leader Jean-Marie Le Pen. Le Pen said that the team did not look "enough French." And it's wrong to say that everyone else did not agree with his statement.
It's not impossible to believe that a then 18-year-old Abidal (with roots in Martinique) identified himself a lot with the new French national team that had roots from different parts of the world. When he became part of the squad he had also become part of the debate, both because of his background, but also because he converted to Islam.
"It's a touchy subject in France, and for me as I believe in openness and tolerance to 100% for all religions and beliefs, as long as they respect others. I think some French and Westerners may have a distorted image of Islam for obvious reasons. Islam has no power in French society, which may be the case with the Catholic Church. There is only one faith, so when someone tries to insinuate that Islam is an underlying threat to anything, so it is unacceptable."
When it comes to Abidal and his role in the French national squad, he was one of the most valued players. Fact tells you that he played in the most competitive matches. Many times, his status was questioned, and many wondered how he could keep Evra from the starting line-up for so long.
So what about the chaos that involved the French national team during the last World Cup? Abidal himself have said that the group had shown solidarity for Nicolas Anelka, but in doing so had acted clumsy and immediately set a bad example of how one representing your country should behave. The always so witty Eric Cantona have said,
" It is good that they got home now. If they stayed for another week, they had eaten each other. At least we avoided cannibalism… "However it is easy to forget that Eric Cantona has achieved zero as a player for the French National team.
Sadly, the National Front saw a chance to profit from Les Bleus, chaos, and reopened the debate about the French identity.  Nowadays this debate is still going on in France, what is French and what is not. But this time the country has a real leader in Laurent Blanc and I predict that the French National team once again will be a power force to recon with in European soccer. Meanwhile Abidal is fighting his way trough an illness and we hope we will see him once again involved in our great sport.