Bixente Lizarazu had an amazing soccer career, few players can say that they achieved what he achieved on the pitch. Lizarazu inspiration and idol growing up was not a Soccer player but  Bjorn Borg.
Lizarazu played tennis as a youngster. He was good, and he copied the entire Borg's playing style, complete with two handed backhand, headband and all.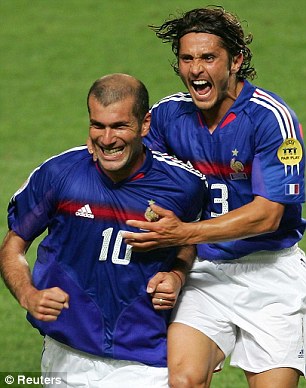 Because Liza is Liza,  L'Equipe newspaper took on to merge all the two legends. They had simply Lizarazu fulfill a childhood dream and interviewing his idol. He flew to London, got to play a fun game of table tennis against Borg – and left town with half promise of a future tennis meeting.
A couple of excerpts from the interview? Sure. Please enjoy.
First, when Lizarazu talks about what he learned of Borg:
– When I played soccer, I tried to have the same concentration as you had on the court. Especially not to show any feelings for his opponent. Since I was a defender I would never show anything for the striker. Neither pain or fatigue or doubt. I did not think he could see something in my eye, and was always inspired by you for that.
Bjorn Borg talks about how he as a child went from being a hothead who behaved badly at the court, to  after half a year off – be  aice cold tennis robot.
Liza: And you trained it up?
Borg: Yes. It was not from one day to another. In the beginning I did it for half an hour. Then an hour. No more, for it wear you down mentally. You have to get used to it. Then I concentrated like it was game on every single workout. It was a long training process, one hour, one and a half, two hours … until four or five hours that I managed to be totally concentrated. It took a long time.
Liza: That's why you did not like the nickname "Iceborg", to which the impenetrable was a strategy, not a natural given.
Borg: Exactly! It was only on target to achieve, to play my best tennis. I had to be like that to improve myself.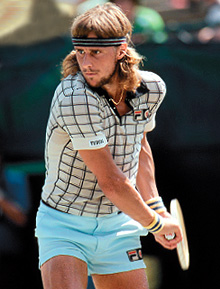 Liza:  It was not really the same with John McEnroe. Have you ever asked yourself what he did to stay focused while he was so expressive on the court?
Borg,: John grew up in New York, a city where people say a lot, which shows his temper and his emotions. He is a typical New Yorker. When we met so disturbed his expression, so different from mine, not me.
I was in my bubble, he could do what he wanted but that I did. But, to be honest, with all the respect we had for each other, so he always behaved good when we met. It was when he met others that he went mad. He did it deliberately to make the other person lose concentration. To me it was different. He was concentrated; he did not care about anything other than his game.
Liza: I asked Zinedine Zidane if he was happier when he played football or if he is happier now that he works for Real Madrid. He replied that there will never be as good as when he played. Is it the same for you?
Borg: So speaking, I would say I am happier today. But I was very lucky during my career. I had a special program every day and it was most pleasant. Every morning when I got up I knew what I would do. Paradoxically, so I miss the routine now after the career. I wonder how I can get days to go. It has been the hardest part of life after tennis. But today I found the perfect balance. I have a family, a completely different life, and I could not be happier.