I have mixed feelings about as what seems to be the ending of RVP career in Arsenal .
On the one hand, I am inclined to trust Wenger's judgment, when selling players in Van Persie's age. Henry, Ljungberg, Adebayor the list goes on of players who Wenger sold just before they peaked, On the other hand RVP was the captain and only world class striker in the squad.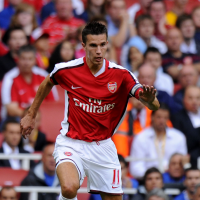 Internally, one can see a right contrast between the two clubs. In Man Utd, it is mainly the owners and the board that bends for Alex Ferguson. Recruitment of van Persie violates the Glazers policy not to recruit players over 26 years for high sums. It is not the Glazers who pushed for this recruitment, it is Ferguson. At Arsenal Wenger is forced incessantly defer to the Board's desire when it comes to the sale of players.
Externally, we can say that this transfer illustrate the competitive situation between the clubs, at least on a more symbolic perspective.
Will Arsenal recruit a replacement?
As I stated a month ago, Wenger already have RVP replacements in the shape of Lukas Podolski and Olivier Giroud.
We must of course bear in mind that the transfer is not yet fully completed. Personal terms have not yet been agreed on, although it of course is extremely unlikely that the deal falls off. But, it gives undeniably another club the opportunity to show up at the last second and get into the race.
The ironic thing in this whole saga is that Robin Van Persie has only really performed at a high level for one year, the reality is that he has been sidelined for most of his years in Arsenal due to injuries. All this time Wenger always believed in RVP and continued to pay his salary for 8 years.  Instead to repay the club for supporting him during the dark times he decides to leave to another rival team. Classy guy.
He could have been a legend instead he will be forgotten.