When you write about Ruud Gullit, also called "the black tulip", you get the urge to write about his 1-0 goal against the Soviets in the European Championship finals in 1988, the nice header that lead to Holland's first victory in a major championship.
Or you could of course write about his time in Milan, the time when Milan was by far the greatest team in the wo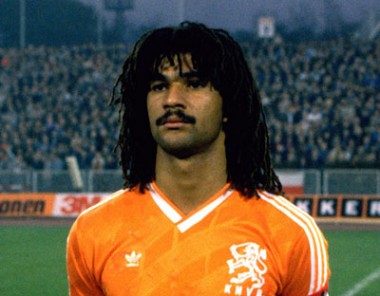 rld.
Or why not write about his ability to play at all possible and impossible positions and still play at a level that few players in the world could match.
Or he probably is the only guy who can pull of having dreadlocks with a mustache and still look cool.
Ruud Gullit was a brilliant player and an decent manager at that.
During his childhood Gullit often reflected on the issues of racism and growing up.
"When you're very young, you're the lovely little black boy with the curly hair. 'Oh, look at you, You are so beautiful'. I never felt I was different to anyone else. "
"But somewhere when you are around 11-12 years you tend to be of course be a bit sharper on noticing those little, subtle comments" Racism was something from 12 years of age was a regular feature in Gullit's life.
Instead of feeling sorry for himself, however, he tried to use his "different" appearance to something positive:
"In some of the teams, I was the only black player and I realized that if you were different in any way, people would notice you"
The older Gullit became, more aware of injustices in society, he was getting in involved in the situation in South Africa, with the policy of racial segregation (apartheid), interested him. So when his great talent helped him to win the Ballon d'Or, an award for best player in Europe in 1987, he took the chance to make a statement: he dedicated the prize to the jailed ANC leader Nelson Mandela.
"I am also an anti-apartheid supporter and I Dedicate My World and European Footballer of the Year award to Nelson Mandela, the imprisoned ANC leader. "
Today, one feels that "what, it's not so strange" but then, at that time, it was far from an obvious feature to support Mandela; Gullit's statement was pretty daring, and of course influenced an entire soccerworld. Since that day Gullit has been anti-racism public face, a football, Malcolm X, an unmasked educator.
But it is not only unfair to blacks that upsets Gullit – all injustices upsets Gullit:
"I admired Nelson Mandela for many reasons, but not necessarily just because I'm black. My mother is white, I am her son, and I've met a lot of white people I 've admired too.
Ruud Gullit was indeed a great player and he was a part of the team that many holds to be the greatest soccer team ever, but he was also more than a soccer player which is something you cannot say to many of the soccer players we see today.
Recent controversy has been that Gullit has accepted a job in Grozny, Tjetjenia. The President have been accused of several serious violent crimes and it is strange that a person with the reputation of Ruud Gullit accepts a job under this conditions. Maybe after all everything can be bought.