This list deals with players during the coming season that will be especially interesting to watch.
It is not the same as the best players or even key players. But there are players who will have some sort of major importance during the season.
The list, like all the lists are of course entirely subjective and you are absolutely sure your own ideas about which players are worth keeping an eye on during the season.
(1) Luis Suarez, Liverpool
Luis Suarez is a very witty, technical and goal scoring player, something he proved in Ajax.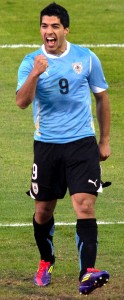 He is also a player with a creative eye for the game. He will probably have a very big role in Liverpool's attacking play.
Suarez arrived at Anfield in January and this is his first full season in the club and league. It is now he should step forward. Suarez is a player with the same iconic significance for Anfield hopes as Torres once had.
(2) Demba Ba, Newcastle
Summer has clearly demonstrated how Newcastle (still) is a club with internal problems. These types of clubs seem to be something that Ba is drawn to. Newcastle for its part, signed him as a replacement for the volatile Andy Carroll.
(3) Gabriel Agbonlahor, Aston Villa
Agbonlahor is one of several players with a similar playing style that emerged at Villa in recent years. The difference is that he is one of the few remaining in the club. Ashley Young and Stewart Downing left last summer, and before them Gareth Barry and James Milner left. The backbone of a proud Aston Villa team.
Agbonlahor has long been regarded as very promising, but perhaps not quite succeeded in taking that final step in his development.
(4) Fernando Torres, Chelsea
It's a strange situation Torres is in. In his best moments, he is undoubtedly one of the planet's best striker, a very versatile and toxic Striker. Meanwhile, his last two seasons has been so bad that many have begun to question his quality.
So this season is something out of an intersection for both Torres and Chelsea's offensive.
(5) Adel Taarabt, Queens Park Rangers
Taarabt was The Championships big magician last season. But the Premier League is a different nut to crack.
Neil Warnock has not been lazy when it comes to trying to address this problem. Jay Bothroyd and DJ Campbell have both arrived to the club, good signings both.
The real question is whether Taarabt is able to continue to deliver for QPR in the Premier League, where every element has to go both faster and with greater certainty. If he fails QPR will be in trouble.
(6) David De Gea, Man Utd
The task of replacing the world's best goalkeeper and the goalkeeper who is a living legend in one of the world's biggest clubs is not easy. And he makes it only as 20 years old in a foreign environment.
The discussion whether he will follow the same path as those before him, Mark Bosnich, Massimo Taibi and Roy Carroll and others have already begun.
Goalkeeper position in Man Utd seem even more significant when you consider that the club's success has largely been concentrated in two periods of Ferguson's manager career where Van Der Sar and Schemeichel where the goalkeepers. David De Gea has a chance to become a worthy successor to them.
(7) Micah Richards, Man City
Somehow, it is typical of Richard's development so far, every step forward is accompanied by a relapse back.
Richards has otherwise the potential to grow until the Premier League's best and most dominant right-back. The quality he possesses in the ground. He is a powerhouse. He is fast. He is heavy and dangerous forward, which is necessary for the wing backs in the modern football, and not least for Man City.
(8) John O'Shea, Sunderland
O'Shea is not new to the leadership role. He was captain of Manchester United several times during his time there. Sunderland has proved a big ambition this summer and is investing heavily to establish itself on the table's top half and in the battle for the European spots.
(9) Aaron Ramsey, Arsenal
Last season was Jack Wilshere season at Arsenal. This season has all opportunities to be Ramsey's. A serious injury was held his development back. He may have a big role to play in this year's Arsenal.
——–
Late last night I felt it's like this whole Cesc-transfer saga took a big step closer to a conclusion, it is said now that the transfer will be complete before the weekend.
Celebrate with this video.