The greatest English soccer player of his generation and one of English best soccer players for more than 15 long years has decided to retire.
Paul Scholes announcement that he is retiring was the big news in the soccer world today.
10 Premier League titles, two Champions League titles, three FA cup titles and League Cup titles, one FIFA Club World Cup during a total of 20 years at the club and more than 650 appearances for Manchester United  team.  He also scored 14 goals in 66 appearances for the English national team before retiring in 2004.
He made his first senior appearance against Port Vale in 1994 and finished his career at Wembley 2011.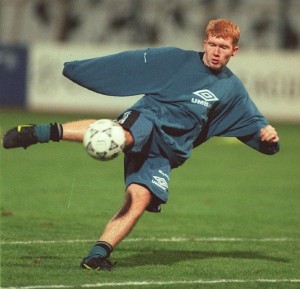 Paul Scholes is a living icon.
Some quotes about Paul Scholes
"My Toughest Opponent? Scholes of Manchester. He is the complete Midfielder. "- Zinedine Zidane
"I'm not the best, Paul Scholes is." – Edgar Davids, at the peak of his career.
"Out of everyone at Manchester United, i would pick out Scholes – he is the best Midfielder of his generation. I would have loved to have played alongside him. "- Pep Guardiola
"I cannot understand why Scholes never won the Player of the Year Award. He Should Have won it long ago. Maybe it's because "he does not seek the lime light like some of the Other 'stars'." – Thierry Henry
"That's why, without question, I think Paul Scholes is the best player in England. He's got the best skills, the best brain. No one can match him. "- Sir Alex Ferguson
Paul Scholes testimonial match will be played in August. Scholes himself will become a part of it United's coaching staff and will work to develop young players for Manchester United's future.
I can't help to think about David Beckham at a time like this, he is problaby thinking that he should have stayed at United. Hundreds years from now Manchester United fans will still remember and talk about players like Scholes and Giggs, while players like David Beckham will be forgotten.