Nearly six years have passed since the FA Cup final in Cardiff: Arsenal chase after titles continues more and more desperate, Patrick Vieira's  trophies has only expanded after a long trip in Italy.
Vieira was born in Senegal but have virtually no memories of his childhood – from the seven years he spent in Africa's western parts. What he knows is that life did not always smile at his family and, therefore, to have a better life, took a flight to France and the Paris suburbs.
There he played football but it was not just the game he loved – the life around was equally important. Bus trips to and from games, the jokes in the locker rooms, and the friendships made with teammates.
Tours FC, was the club that formed Vieira as both man and player. The club that put Vieira on the world map was AS Cannes, the Riviera Club, which brought up players like Zinedine Zidane and Gael Clichy. In Cannes, Coach Lacombe care of young players and Vieira claims that he had not been a dull workout with the former French great.
And speaking of former great players in the Coaching staff: Cannes A – team was coached by Luis Fernandez – the defensive midfielder who cleaned up behind Platini in the national team in the '80s – and after a year with the reserves Viera was ready to play for the A-team.
It can happen quickly in soccer, only 19 years old, suddenly Vieira was captain of Cannes and just as suddenly Vieira, one autumn day, was "kidnapped" by a few representatives from the large, powerful, AC Milan:
"One day, I Turned up for training at Cannes, only to be told, 'You're Not training today, you're off to Milan, you're going to sign for AC Milan.' I Said, 'What? Who am I signing for? "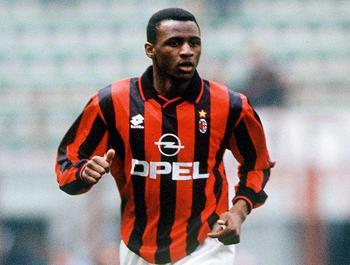 I did not even have time to work out what was happening, or let the news sink in. Before I even had the slightest chance to think about the situation, a car whisked me away to the airport where a private jet was waiting to fly me to Milan. It was almost like being kidnapped. "
The chapter Milan, however, was more a tragedy than a comedy. When Vieira arrived in Milan, the team had already established a half dozen foreign players – including Weah, Savicevic, Desailly, who were all self-written in the first line-up – and because only three were allowed to play because of the league regulation, there were few chances for Vieira.
But Vieira liked Roberto Baggio and Paolo Maldini – who he thought was the perfect gentleman – and he loved George Weah. They all did their part to the lanky Frenchman would thrive. In the end, it was not enough for him to stay.
This was the time where Vieira's life would completely change, from an relatively anonymous existence in Milan's reserve team he would be recruited to a team where he would be considered to be one of the best midfielders ever played in the country.
Part II of the article is going to be posted tomorrow.