Newcastle is into the final 16 of the Europa League on the strength of a penalty goal from Shola Ameobi as the Magpies took down Metalist Kharkiv 1-0 in the Ukraine.  The game winning goal was Ameobi's 15ht European goal and came after Metalist goalkeeper Olexandr Goryainov tripped up Moussa Sissoko.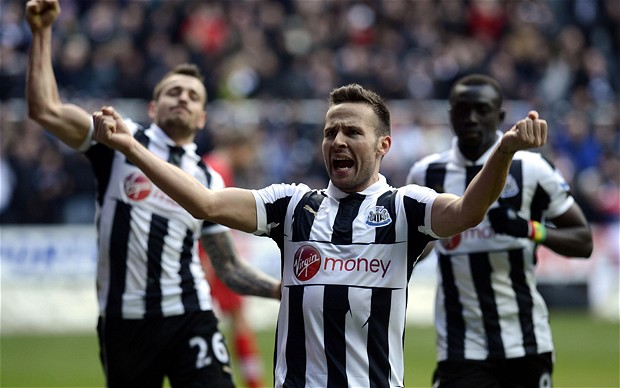 Ameobi's goal was not the only highlight of the game.  Late in the game Newcastle goalkeeper Tim Kruel had to make an improbably double save in order to keep Jonathan Cristaldo from scoring with just 13 minutes left to play.
The stats for this game were very lopsided in favor of Metalist in all but one telling category.  They led in time of possession, shots, more than doubled Newcastle in shots on goals, and even had fewer fouls.  However, the stat that is the most telling regarding the outcome is in saves.  Newcastle led in this all important category 9-5, including the late saves by Kruel against Cristaldo.
Newcastle's deep run in the Europa League is definitely a morale booster for a squad who has been dwelling in the cellar of the Premier League.  A Europa League title could also help the team secure new sponsors.  A recent trend has seen several major companies sign EPL sponsorship deals, including online gaming giant Bwin's signing with Manchester United.  A Europa League trophy would show sponsors that the team is indeed competitive and has just had a bad string of luck in the Premier League this year.
Shola Ameobi's goal at the 64th minute easily allowed Newcastle to move on to the round of 16 in the Europa league.  The team needed only a draw or lose in extra time to move on.  Their victory ensures they will move on as they now wait to find out whether they will face Anzhi Makhachkala or Hannover.