Many things have been said about Filippo "Pippo" Inzaghi and he is a player everybody loves to hate. But one thing is certain about the man who supposedly was "born offside" and that is that he don't care what anyone thinks about him as long as he can do what he love most, score goals.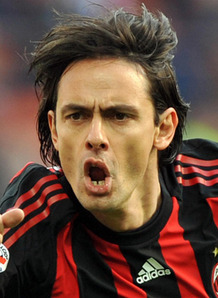 A young Filippo Inzaghi was obsessed with football but his parents were careful that he also took care studies:
"As a child I was vivid, smart and determined. And crazy about soccer of course. I was born to play soccer. I studied alone to make my parents proud, but I always knew that I, with luck, would be a soccer player – a center forward, to be exact. "
Pippos greatness is not always visible at first sight, and my father and mother Inzaghi was probably realistic as they watched their son play and probably thought "Hmm, best to steer up a backup plan."
So – a young and ambitious Pippo studied accounting, the art of numbers, and passed his courses but there was always a thought that "this is not my life's calling." He loved soccer; however, he was good at soccer but not enough to play as a full time professional.
It was not until he came to Atalanta, the general public began to realize that there was substance in Pippo, he won the top scorer in Serie A – before Sampdoria Montella – and was not entirely unexpected awarded a price as the best young player in the league.
He only spent one season – 96/97 – in Bergamo. The old lady from Turin had set her sights on him and at that time Juventus was a power to reckon both in Italy and Europe.
For Inzaghis greatness will never be in his individual skills. You will probably find people right and left in your local park to do more impressive things with the ball than Pippo.
The fact that Sir Alex Ferguson once said a bit unfair might I add about Inzaghi, "The boy was born offside". Quite the contrary. Is there anyone who is an expert at avoiding offside, it's Inzaghi.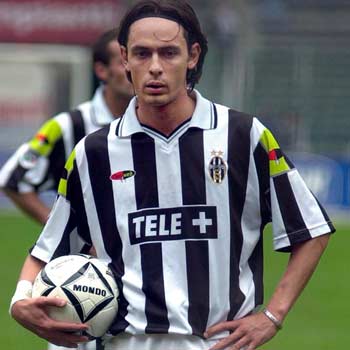 In Juventus, with talented players around him, Inzaghi excelled.
One that was not quite fond of Inzaghis rampage was Alessandro Del Piero. One can understand him; Del Piero was a bit of the team's Bruce Springsteen during this time and then came Inzaghi. Not as deep, not as beautiful but still successful.
But the alleged conflict was probably not the main reason that Pippo moved to Milan in the summer of 2001, instead it was likely that he could not handle being benched in favor of David Trezeguet. He simply wanted to have more playing time.
His time in Milan will always center on that epic final in Athens against Liverpool when he scored two goals to win the Champions League.
Inzaghi is currently rehabilitating himself from a serious knee injury and his career is supposedly over. It would not surprise me do that by the beginning of the next season that we will see an Inzaghi going crazy over a goal he just scored. It could be in San Siro in front of 50,000 fans or it could be in the park in front of the homeless guy at the park bench either way Inzaghi is going to celebrate.