"If Ryan Giggs is worth 20 million, Bergkamp is worth a hundred"
Marco van Bastens quote summarize everything I feel for Dennis Bergkamp. He is without a doubt my favorite player of all time. You might argue that Henry scored more goals, Maradona had better technique, Messi is a better player. Nevertheless he is and always will be my favorite soccer player. Dennis Bergkamp was the Mozart of Soccer, he could do things on the pitch that this before mentioned players could not even imagine.
Dennis Bergkamp came to a Premier league, dominated by Manchester United. Alan Hansen had been eating up his comment "you won't win anything with kids". Bruce Rioch led the Gunners and was in a feud with everyone. His fights with the club management, player, masseurs left the club in chaos. Bergkamp and David Platt was the new transfers for the season 1995/1996. Bergkamp took his wife Henrietta to North London, and an era would begin.
Upon arrival at the club Bergkamp included a bet with Lee Dixon and Ian Wright. He would take thecClub to Europe again. With the season's last goal against Bolton, he sent the Gunners to the UEFA Cup.
The major developments of Arsenal came with Arséne Wengers entrance to the Gunners.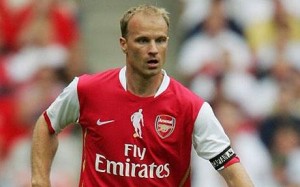 Under Wenger, Bergkamp played 10 seasons for Arsneal. Perhaps the best of them was the 1997/1998 season. That year the Gunners won the League after Christmas and toted up big game after big game.
The Dutchman played magnificent football that year and was also elected player of the year in England.
"During the first half of the 1997/98 season, played what must be the best football of my career. Everything I was trying messy to work, my body felt fine and everything went for me. I was on form and it was a great feeling."
In 1998, he also played the World Cup and who do not remember his stunning goal against Argentina.
Dennis Bergkamp is hard to describe as a soccer player, but it is easy to see his genius when you watch him play. Enjoy.
Born: May 10, 1969
Matches / goals: 411/120
Internationals: 79 (37 goals)
Titles: Royal Gold 1997/98, 2001/02, 2003/04
FA Cup: 1997/98, 2001/2002, 2002/2003, 2004/2005