Didier Drogba took the Ivory Coast to African Cup of Nations.
Then chaos in the Ivory Coast – Senegal started out in the stands, the qualifying match had to be interrupted after Senegalese fans threw chairs, stones and bottles at the players.
Ivory Coast was about to qualify for the African Cup of Nations next year. But the celebration came to a halt.
With 15 minutes remaining in the qualifying match against Senegal, Didier Drogba's scored the second goal on a penalty.
Ivory Coast had the match  at 2-0 and 6-2 overall. That's when the unrest broke out at the Leopold Sedar Senghor Stadium. Several people where hit by projectile thrown in, Senegalese fans began to set fire to the stands and according to AFP throwing bottles, stones and chairs against the players.
Around 300 supporters from Ivory Coast was evacuated from the stands and gathered on the field for their safety. Police used tear gas to calm the chaos, but after 40 minutes it was decided that the match would be stopped. According to Senegal's official news agency, it will not be resumed.
A match delegate reportedly hit by a projectile, but no damage should have been reported.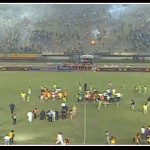 It's interesting to see how the clubs react to these kind of situations, it's easy to forget the players are million dollar investments for the clubs. Just remember the the shooting incident with the Togolese players in the last African Championship.
Brothers Yaya and Kolo Toure was both on the field when the incident took place. Both escaped injury in chaos, says Manchester City in a statement on its website.