Let's take a look at the American soccer players out there in Europe playing the biggest sport in the world at the biggest stage. We will look at American Soccer Player at the three major leagues in Europe, the Italian, Spanish and English.
Spain
Spain is without doubt one of the best Soccer leagues in the world and their league battles against the English league on wich is really the best. Hard to compare the two in my opinion since Spain has the best team in the world while there is a big drop in quality after the top 2 teams.
In Spain there is only one American Soccer player, and he is considered one of the most talented players ever came out from the U.S.
Name: Jozy Altidore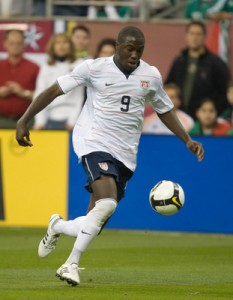 Age: 21
Club: Villareal (On loan to Bursapor)
Position: Striker
Opinion: Regarded as a major talent in the U.S. and always there fighting for a spot in the starting lineup for the United States. Seems to me that he is looking for a new club, where he gets playing time and can develope. Right now on loan to Bursapor and is a rotation player in their squad, has played 11 games and made one goal. He may have to take a step down and play at a lower level to both get playing and time and improve.
England
The English Premier League has plenty of Americans Soccer players.
Name: Clint Dempsey
Age: 28
Club: Fulham
Position: Striker / Winger
Opinion: Donovan is great, but I would claim Dempsey is the best American Soccer player. A regular in Fulham and a full 12 league goals this season, I wonder if big clubs comes knocking at Craven Cottage doors this summer.
Name: Eddie Johnson
Age: 27
Club: Fulham (loan to Preston North End)
Position: Striker
Opinion: Do not believe that his places is in the Premier League. He should it to Scotland, believes he fits in well in a team there.
Name: Brad Friedel
Age: 40
Club: Aston Villa
Position: Goalkeeper
Opinion: A terribly underrated goalie. Most likely this will be his final season, but you never know. Stopped playing for the U.S. national team in 2005, otherwise he would have challenged Howard.
Name: Brad Guzan
Age: 26
Club: Aston Villa (on loan to Hull)
Position: Goalkeeper
Opinion: Can he fill the shoes after Friedel? I think currently there, he has done a pretty good time in Hull and has not reached the age where the best goalie just yet.
Name: Marcus Hahnemann
Age: 38
Club: Wolverhampton
Position: Goalkeeper
Opinion: Talk about the U.S. has a lot of great goalies, although Hahnemann right now is not the first choice of the Wolves, for it is the very talented Welshman Hennessey. Possibly it is the last season in Europe.
Name: Stuart Holden
Age: 25
Club: Bolton
Position: Midfielder
Opinion: Has done a really good season at Bolton, and wonder if he will be taking the next step in his career, after the summer. Was not selected in the starting 11 for the U.S. before this season, but everything else would be a joke now.
Name: Tim Howard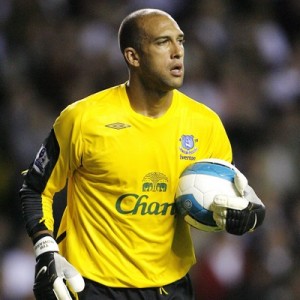 Age: 32
Club: Everton
Position: Goalkeeper
Opinion: First Goalkeeper in the U.S. and Everton, a underrated goalie in my opinion. He might not be a world class goalie, but definitely a very good goalkeeper.
Name: Eric Lichaj
Age: 22
Club: Aston Villa (on loan at Leeds)
Position: Defender
Opinion: In a few years or so I think Lichaj will be a starting player in the U.S. national team, has done well in Leeds and will surely fight for a place in the starting 11 of Aston Villa for next season.
Name: Jonathan Spector
Age: 25
Club: West Ham
Position: Defender
Opinion: His team got relegated from the Premiership this year. Has not been 100% regular this season, nor in the U.S. national team. It will not hurt him to go down to a lower division and get plenty of playing time.
Name: Zak White Bread
Age: 27
Club: Norwich
Position: Defender
Opinion: Norwich just went up to the the Premier League, but I really wonder if White Bread will hold his place? It is very possible that he does, but one must not forget it's a big difference between the Championship and Premier League.
Name: Robbie Findley
Age: 25
Club: Nottingham Forest
Position: Striker
Opinion: Left the MLS at the end of 2010 and his arrival in England could have started better, he was injured almost immediately and missed large parts of the spring season.
Name: Mike Grella
Age: 24
Club: Leeds (on loan to Swindon)
Position: Striker
Opinion: Grella should try a new club so he gets playing time and perhaps could develop into the talent he was considered at one time.
Name: Anton Peterlin
Age: 24
Club: Plymouth Argyle
Position: Midfielder
Opinion: Totally unknown in the United States when he last season, signed with Everton from the Ventura County Fusion, but after a rather mediocre season in the reserves Everton chose not to renew his contract. Instead Peterlin moved to Plymouth where he is considered to be a first team player.
Name: Frank Šimek
Age: 26
Club: Carlisle United
Position: Defender
Opinion: in 2007, he was actually selected to the squad for the U.S team, today he is not even close. Although I have heard and read that he seems to do really well in his current club team.
Italy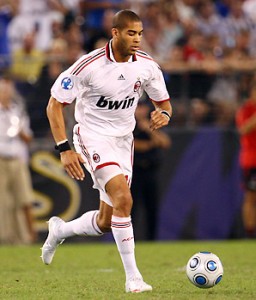 The Italian league has dropped a lot in recent years and I am not even sure if is better than the German Bundesliga. There is only one American Soccer player in Italy and he is currently on loan at Twente in the Dutch league.
Name: Oguchi Onyewu
Age: 29
Club: Milan (on loan at Twente)
Position: Defender
Other: Onyewu was king in the World Cup in South Africa and was recruited to Milan, but was loaned out to Twente. His future is uncertain, Onyewu may have to make move to a different club to get some real playing time.
I also want to also add an outsider who finally got a chance to join the U.S. squad for the Gold Cup tournament. Alejandro Bedoya is a player I want to add because he is simply a great player. He is currently playing in Sweden for the club Orebro SK. Hopefully he will get some playing time during the tournament and show what kind of player he is.  In my opinion he is good enough for the starting 11 of the U.S. national team.